When installing a new network connection, a crimping tool or UTP pliers may come in handy. However, not all crimping tools are the same. Each crimp has a suitable type of tool you need to use to perform the action. This guide aims to help you in finding the right tools depending on what you need.
The main purpose of using crimping tools is to create a reliable and firm bond. Different crimpers are utilized in various settings and they come in different sizes and shapes.
They are typically used by engineers, mechanics, and electricians in replacing and installing wires and cables. The crimpers make it possible to fix the wiring heads precisely to the terminals or connectors to form a proper electrical connection.
These crimps are mechanically strong and do not require the use of solder. You only have to ensure that they are in good working condition before using – impermeable to moisture or oxygen and gas-tight.
Which One to Buy?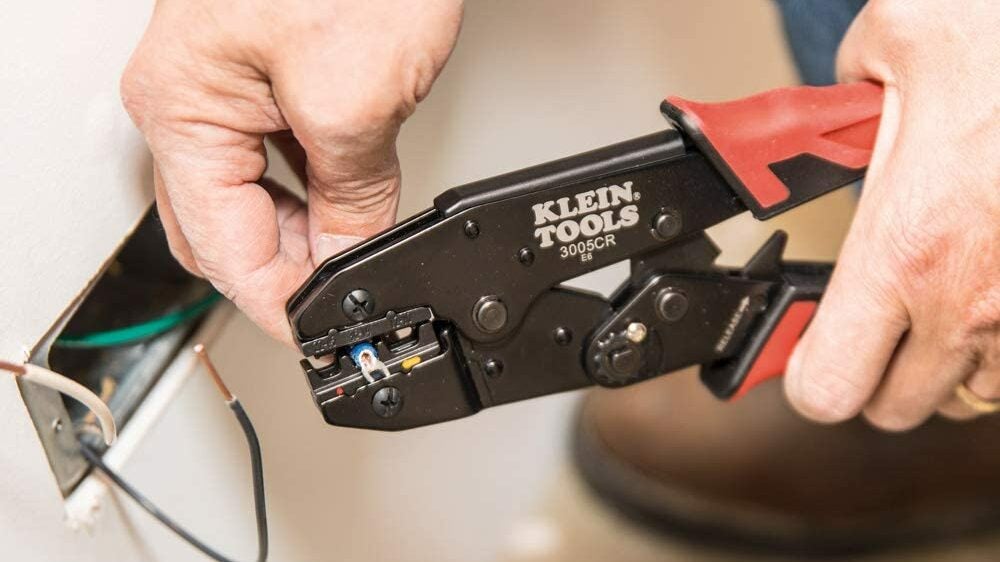 Basically, there are different crimpers designed for a variety of applications and finding the right one for your needs can be overwhelming. You can find products with different numbers of contacts and positions of the plug. You will also base your choice of the designations of the tool's types, such as RJ45, RJ12, RJ11, and RJ10.
The most widely used among the said designations is the RJ45 pliers, which has eight contacts and eight positions. You can use the product to tackle smaller plugs and in installing network connections in the house.
There is also the TNC crimping tool, which is the improved version of the BNC and gives out a higher frequency. This is why TNBC is commonly used in dealing with hardwired and radio networks.
It is crucial to get the kind of crimping tool with a conductor suited to the marking on the cable lug or sleeve. Some pliers may not be capable of handling the thickness of bushings from different sources.
Here are some of your choices and where to use them:
Cable Lug-This crimper can be used for cable lugs in colors yellow, blue, or red.
Cable Shoe-The tool is commonly used to connect a cable to a flat connector, and it is widely used in the field of electrical engineering.
Ferrule Crimping Tool– As the name suggests, this tool is used in crimping the ends of a ferrule, a copper sleeve with tin plating.
Auto Electrical Crimpers– Crimpers are used to join cables and electrical connectors in a car engine. They come in various designs depending on the parts you will crimp, such as ignition terminals and batteries that may be pre-insulated or non-insulated.
RJ9– This is a handheld device fitted with three crimping heads and can deal with connectors, including RJ12, RJ11, and RJ45.
RJ45– The RJ45 is a powerful and flexible crimper you can use in dealing with terminals, including CAT7, CAT6A, CAT6, and CAT5e.
Amp Crimpers– These tools apply the exact force needed in creating a strong connection with the cable system. Amp connectors have plastic housing fittings and come with multiple pins.
Knowing your needs and where you intend to use the crimping tool will help you to make the right buying decision.
How to Make a Network Cable
You can perform the task of making a network cable with ease as long as you have the right crimping tool. Here are the basic steps to get this done:
Step 1: Strip the cable while ensuring that you don't cause any damage to the individual cores. For this task, you can use a crimper like a cable lug.
Step 2: Place the cores in proper order:
Orange and white
Orange
Green and white
Blue
Blue and white
Green
Brown and white
Brown
Step 3: Cut the wires to make them the same length.
Step 4: Connect the plug by sliding the wires into the crimping connector while ensuring they remain in proper order.
Step 5: Put the plug with the inserted cable in the nippers, and then use force to pinch it until the veins are exposed and fixed.
After performing the steps, you can start using the UTP cable.
Popular Brands of Crimping Tools
Here are some of the leading brands that produce high-quality crimping tools. They include:
Japan Solderless Terminal or JST
This company is one of the biggest in the world when it comes to electrical connectors. They produce a variety of connector types, totaling above 50,000 kinds.
TC Connectivity
TC Connectivity brand caters to your needs for different kinds of portable crimp tools. They have powerful tools or crimpers you can work on manually.
Daniels Manufacturing Corporation or DMC.
This brand offers crimp tools in various models, such as manual, pneumatic, battery-operated, and flexible workbench. It is also among the major producers of electrical components in the world.