If you want to connect a couple of monitors to your video card, the solution you are looking for is a DMS-59 adapter cable. A DMS-59 cable is designed to support DVI-I.
Hence, it comes with various connection options including HDMI, VGA, DVI, or a VGA and DVI combination.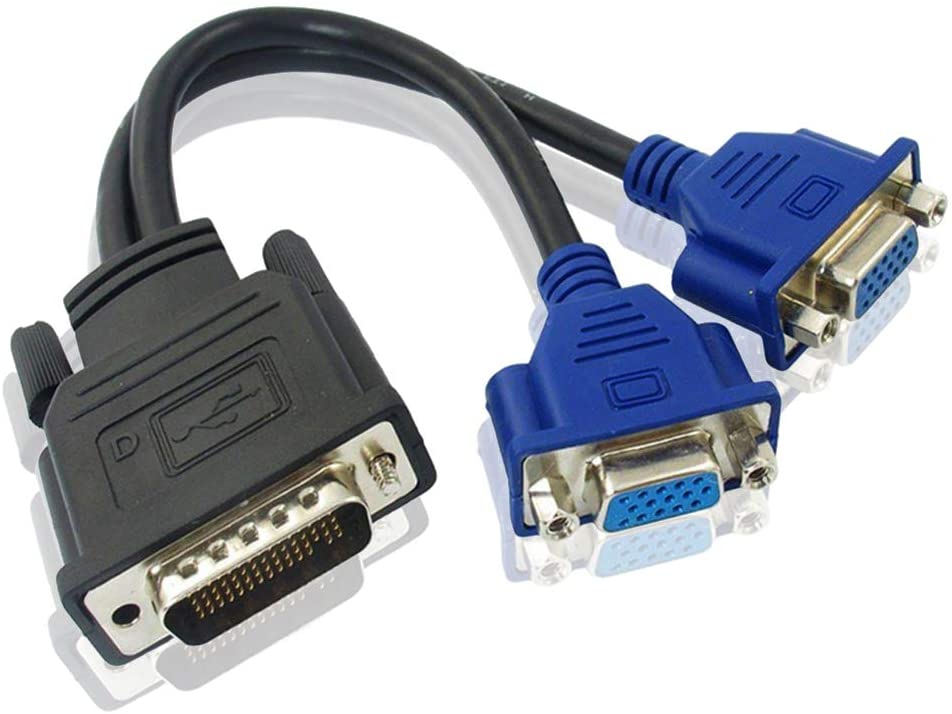 DMS means Dual Monitor Solution, and the number implies that it has 59 pins. The single connector is used to connect two monitors in a video card. This way, the space consumed is minimal as compared to using two DVI standard cables.
The product enables connecting two monitors on a card considered low-profile. You can use two connectors on a regular video card to facilitate the connection of four monitors to a single card.
This kind of connector has similarities to the LFH-60 pin or Low Force Helix connector that is commonly installed in workstations. Their difference lies in the one pin left at the bottom of pins in female and male connectors. This means that the DMS-59 connector cannot fit in the older LFH-60 plug.
You also have three options when connecting the DMS-59 to a monitor – HDMI, VGA, and DVI connections.
Generally, you will need the adapter cable to connect a single monitor or two monitors to a video card. This kind of connector can also be used in DVI-I or DVI Integrated. It works by using a single connector in combining an analog and digital video signal.
You can independently select each connection for every monitor when  connecting a digital DVI or an analog VGA monitor through the use of DMS-59.
A DMS-59 adapter cable allows you to connect a digital DVI monitor to an analog VGA monitor, two digital DVI monitors, or two analog VGA monitors.
You can also try connecting two DisplayPort monitors, an HDMI beamer to an HDMI monitor, or two HDMI monitors.
You only have to know exactly what you will be connecting to buy the right adapter, which come in a variety of types including:
2 x DisplayPort female
2 x HDMI female
2 x VGA female
1x DVI female and 1 xVGA female
2 x DVI female
VHDCI-68 connector
Who Can Use a DMS-59 Cable?
This cable is recommended for those in need of connecting up to four monitors using an adapter cable. If you require more connection than the DMS-59 can handle, you can use the VHDCI-68 that fits PCI cards considered low-profile.
Originally, this connector was meant to be an external SCSI-3 connector. The cable is placed at the back of a single PCI card to connect to four SCSI channels. Its size is small, which prompted video card manufacturers to use it as well.
You can get this connector for the standard you require, including HDMI, VGA, and DVI.
You only have to know your technical requirements, where you intend to use the product, and how many monitors you plan to connect to your video card to decide which cable connection is best suited for your preference.